Play Minecraft v11.2 (Minecraft 2D)

GAME INFO
Play Minecraft (Minecraft 2D) About the game:
Play minecraft prepared for the new version of the New Year's Eve game Play Minecraft is taking place on our website. Many new features in v11.2 release will be waiting for you. Previously we share with love first version of Play Minecraft game Paper has attracted much attention, and this game also has a feature that will meet all your expectations. the gameplay looks almost the same as the first version. Let's make a short reminder about the game. The size of the game may take time to load depending on your connection speed is high, so we recommend that you wait a bit. Also given effect snow as you can see in this game. We wish you success in the Paper v11.2 game Play Minecraft will meet with many new features. Have fun while playing minecraft…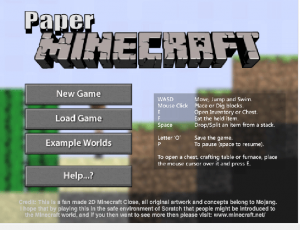 Game instructions:
With the 1-9 keys to select the product to create or block tıklayın- Mine WASD - walking / swimming / running E - Inventory Tab Open / Close F - Food N Food S - Stop Substance P - Pause / Resume T - Talk That - save game
Commands:
snow mode to open the game; Press T. Command area / weather summer showers. To turn the rain modes in the game; Press T. Command area / weather summer showers. \Update/// Our new adventure map is now live. Loading entering the part of the game Copy and paste the code space at the following link and click ENTER. Enjoy the taste of playing Minecraft Paper on a different map.
Click to Play New Minecraft Map.